Studying in Ireland offers a plethora of advantages that make it an attractive destination for students worldwide. Renowned for its top-notch education system, Ireland boasts world-class universities and institutes that provide a diverse range of courses, from arts and sciences to technology and business. The country's strong emphasis on research and innovation fosters an intellectually stimulating environment, attracting scholars from various disciplines.
Besides academic excellence, Ireland's warm and welcoming culture makes international students feel at home. The Irish people's friendliness and hospitality create a supportive atmosphere, encouraging multicultural interactions and personal growth. Additionally, Ireland's picturesque landscapes, rich history, and vibrant cities offer an unmatched quality of life.
Moreover, students can benefit from Ireland's thriving job market, particularly in sectors like technology and pharmaceuticals. The post-study work opportunities further enhance the appeal of pursuing education in this dynamic and progressive nation. In summary, Ireland provides an exceptional educational experience amidst a welcoming and stimulating environment, making it an ideal choice for aspiring scholars.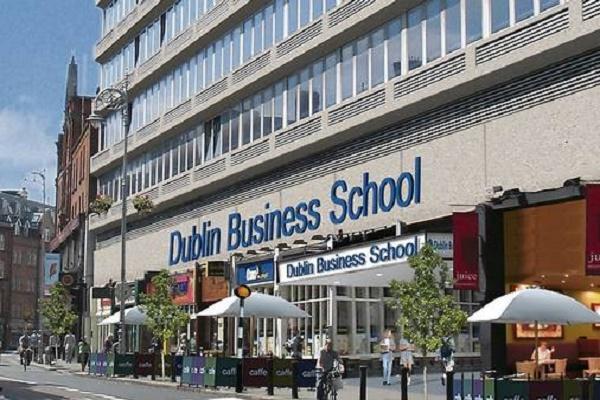 We officially represent Dublin Business School in Pakistan and can assist our valuable students in processing and obtaining admission to the visa grant. Studying at Dublin Business School (DBS) offers numerous benefits that make it an excellent choice for prospective students seeking quality education and career opportunities. Here are some key advantages:
Accredited Programs: DBS is a well-established and accredited institution, ensuring that its programs meet high academic standards and are recognized both nationally and internationally. This accreditation enhances the value and credibility of degrees earned at DBS.
Wide Range of Courses: The institution offers a diverse range of undergraduate and postgraduate courses across various disciplines, including business, marketing, finance, psychology, law, and more. This variety allows students to choose programs that align with their interests and career aspirations.
Industry-Relevant Education: DBS focuses on providing practical and industry-relevant education. Through a combination of theoretical knowledge and real-world applications, students gain valuable skills and experience that are highly sought after by employers.
Experienced Faculty: The faculty at DBS consists of accomplished academics and industry experts. Their expertise enriches the learning experience and ensures that students receive top-quality education and guidance.
State-of-the-Art Facilities: DBS provides modern and well-equipped facilities, including libraries, computer labs, and interactive classrooms, creating an optimal learning environment.
Career Support: DBS offers comprehensive career support services to help students with job placements and internships. The institution's strong connections with the industry facilitate networking and employment opportunities.
International Community: With a diverse student body from around the world, DBS fosters a multicultural environment, promoting global perspectives and cultural exchange.
Location: Being situated in Dublin, Ireland's vibrant capital city, DBS provides students with access to a thriving business hub and numerous job opportunities. Dublin's cosmopolitan atmosphere offers a rich social life and cultural experiences.
Flexibility: DBS offers various study options, including full-time, part-time, and online courses, catering to the needs of different students, whether they are working professionals or international learners.
Overall, Dublin Business School offers a holistic educational experience that equips students with the skills, knowledge, and confidence to excel in their chosen fields and embark on successful careers in a rapidly evolving global economy. For more information on admission requirements and visa processing, please contact the experts!!
Contact us

Apply now to get free services in your entire processing.